The theme of this year's MWC show, "velocity", was somewhat vague but open to clever interpretation. The theme could well stand for the pace of change and innovation in the telecommunications industry. The progress of 5G has been rapid and there was even talk of 6G by the end of the decade. 6G will feature AI/ML and energy savings which puts companies working in these board areas in pole position to contribute ideas, IP and experience to what 6G ultimately offers.
This was all exciting but there was a potential complication. The major operators, especially some from Europe, were up in arms about how the value they were creating was being captured by other industry participants. As a result, one executive cited a study by PWC which said that over Euro 600 billion or so invested in networks over the last decade was not monetizable, putting the economic future of some operators in jeopardy. It is no secret that in moving from one "G" to the next, operators have had a hard time getting end users to pay more for low latency and high throughput services. With revenues remaining flat or growing only slightly, operator profitability has remained stagnant at best for the last several years.
This conundrum created a lot of "velocity" around conversations about the transition from proprietary networks to open networks, the sort of networks which will feature disaggregated, virtualized, multi-vendor elements with standardized interfaces, and with a high degree of programmability. Major operators were talking about open RAN (ORAN) as the future network architecture that will deliver performance and energy savings. Incumbent Network Equipment Providers (NEPs) flexed their muscles on products and programs to support this more open future. Their suppliers showed off servers, network cards and accelerators that would form the basis of ORAN-compliant systems. 
Brownfield and greenfield operators who were working on ORAN initiatives shared their early experience with challenging integration and fluid interface definitions, but they were also enthusiastic about various promising initiatives to make this integration easier such as pre-integration of selected groupings, as exemplified by what NTT Docomo is doing with the Open RAN Ecosystem (OREC) Lab. Other initiatives proposed by the likes of Vodafone and Rakuten were sure to address some of the known challenges with deploying ORAN. Opportunities around the RAN Intelligent Controller (RIC) were highlighted as holding a lot of promise to bring new innovation to the control and optimization of the RAN over the E2 interface.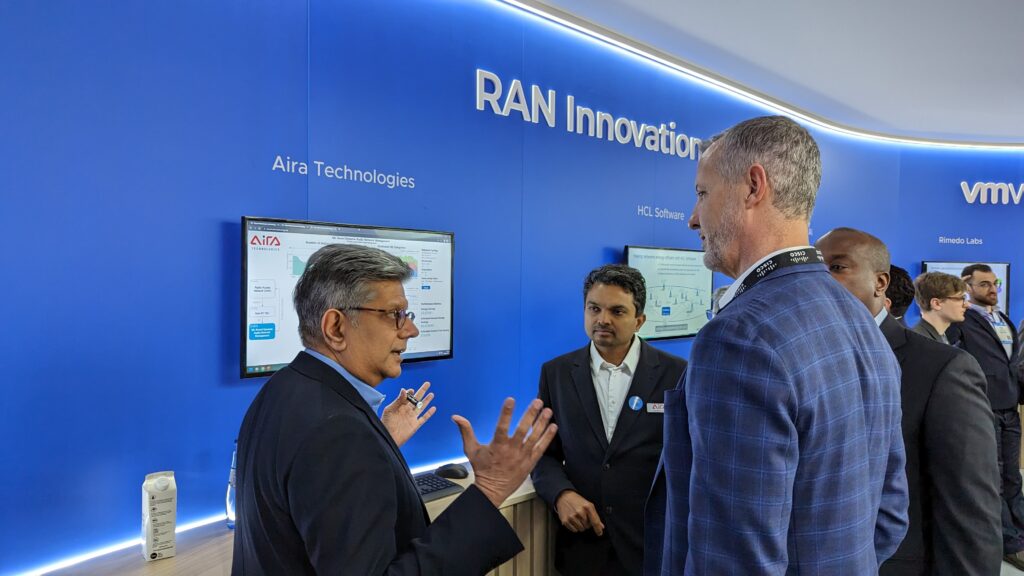 Aira was among several start-ups showing such ORAN innovations. Aira had demos in three booths – the AWS booth, the VMware booth and the TIP booth, showcasing ML-based channel prediction and estimation (xApp) and ML-based dynamic network (energy) management (rApp). Accurate channel prediction and estimation is a prerequisite for other activities in the wireless chain like beamforming, scheduling and rate adaptation, and it can therefore have significant impact on RAN performance. Aira demonstrated a doubling of throughput compared to the baseline just from applying ML to the channel prediction and estimation problem. 
The energy savings rApp which was on display at the AWS booth was another hit. This demo got attention from both pure play ORAN MNOs and incumbent MNOs. This is because the ML-based rApp which resides in the AWS cloud is driven by inputs via the O1 and A1 interfaces of ORAN-compliant systems, or by the northbound APIs of legacy EMS. The job of the rAPP was to analyze contextual information from the network and to intelligently power down selected radios without appreciably impacting throughput. The realized energy savings was up to about 23%.
Aira worked closely with a number of partners on the three demos, and made 5 major announcements leading up to the show with partners such as VMware, AWS, Intel, Juniper, Microsoft and Capgemini.